HOSHIZAKI KM Ice Machines (Crescent Ice)
Crescent-shape ice moves around freely yet packs together tightly in its bin, maximizing storage capacity. Individual crescents do not stick together as there are no air pockets so that each piece of ice comes across distinctive in a cup of drink.
Hoshizaki's crescent ice makers meets the need for both small and large amounts of ice daily without using large spaces.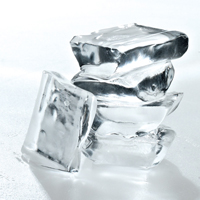 HOSHIZAKI KM models
Self-Contained Type
Model
Capacity per 24h
(AT 21 °C)
Storage
Dimensions (WxDxH)

KM-40B

41 kg

16 kg

452 x 621 x 842 mm

KM-55B

50 kg

23 kg

605 x 627 x 842 mm

KM-80B

74 kg

40 kg

605 x 723 x 842 mm

KM-115B

105 kg

45 kg

612 x 712 x 840+150 mm

KM-140B

120 kg

55 kg

773 x 712 x 840+150 mm
Modular Type
Model
Capacity per 24h
(AT 21 °C)
Ice Bin**
Dimensions (WxDxH)

KMD-201AB
KMD-201AWB*

41 kg


B-301SA
B-501SA
B-801SA
452 x 621 x 842 mm

KMD-270AB
KMD-270AWB*

50 kg

B-301SA




B-501SA




B-801SA

605 x 627 x 842 mm

KM-470AJ

480 kg

B-501SA




B-801SA

768 x 699 x 825+1106 mm

KM-590DJ

590 kg

B-801SA

1225 x 697 x 695+1106 mm
*water-cooled
*Ice bin capacities: B-301SA - 144kg | B-501SA - 217kg | B-801SA - 348kg